The Creative Teens Program
The Creative Teens Program is an opportunity for teenagers, ages 13 to 17, to express their creativity and develop their skills in the following areas: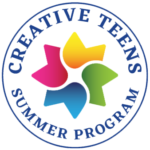 Teens as Entrepreneurs: Learn to use basic  jeweler's tools, macramé techniques, and how to price and market your handmade jewelry pieces.
Renowned mural artist: Ron Becker will share his experiences and students will learn ideas/themes/intentions for their mural and select one for their door sized mural project.
Staged Reading Theater: Rehearse and produce a staged reading of a play while learning self-awareness, confidence, public speaking and constructive feedback.
The program is on Tuesday, Wednesday, Thursday from July 12 through the 28th from 10 am – 1 pm. Open studio time on Fridays July 15, 22, 29 from 10-1 pm. Closing celebration and exhibition will be Friday, July 29 from 4 – 5:30 pm. The program is $265 per student.