The Creative Teens Program
The Creative Teens Program is an opportunity for teenagers, ages 13 to 17, to express their creativity and develop their skills in the following areas: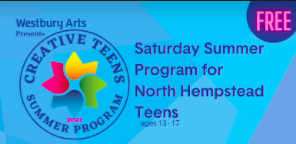 Teens as Entrepreneurs:
Learn to use basic  jeweler's tools, macramé techniques, and how to price and market your handmade jewelry pieces.
Creative Teens Mural Arts:
Create public art with a message as you learn about concept development, design enlargement, paint application and more.
Staged Reading Theater:
Rehearse and produce a staged reading of a play while learning self-awareness, confidence, public speaking and constructive feedback.
Each class in the program will meet for two hours on six Saturdays in July and August. There will be a culminating community  event at the end of the program on August 14th.