JOIN US FOR OUR GRAND OPENING WEEKEND CELEBRATION OF WESTBURY ARTS' NEW HOME!
255 Schenck Avenue, Village of Westbury
(just off the main street of Post Avenue)
Renowned artist, Francisco Ciccio Poblet, and last living student of Salvador Dalí, is to show his work amid our "unveiling" of a huge 53-feet-long hand-painted outdoor mural, across the street from the Westbury Arts building (covering the entire side wall of Jin's
Apple Farm).
The acclaimed artist exhibit is on view in our brand-new gallery June 15 through June 27.
About Our Grand Opening Weekend Festivities.
Tickets are FREE and are available on Eventbrite (see details and links below).
Space is limited for the play and musical performances and Sunday kid's day, so pre-registration is mandatory.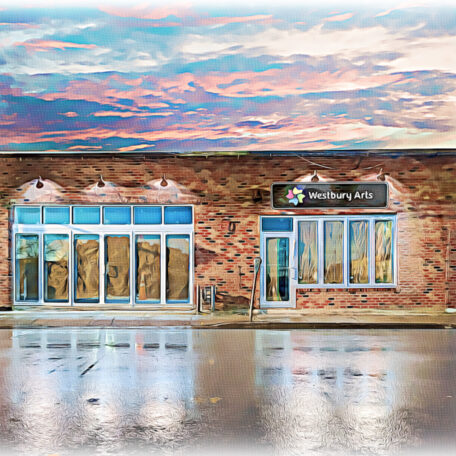 A highlight of the official opening weekend is our open house from 1 to 5 pm is the opportunity to meet artist Francisco Ciccio Poblet, the last living apprentice of Salvador Dalí.
Play and Musical Performances 7:00 p.m. – 9:00 p.m.
From 7pm to 9pm, the theater premieres an original comedy in one-act by Meagan J. Meehan entitled "The Values of Gold, Silver & Bronze," followed by musical performances by Carle Place High School students Devin Eichel and Antonio Urrutia. Registration on Eventbrite.com is required for this event.
Enter Event Code: 154834836163 (or type Westbury Arts) into "Search Events"
RSVP Link: https://www.eventbrite.com/e/154834836163
On Sunday, June 13, a "Family Fun Day" is planned with kid-focused arts and crafts, exercise, story reading, cupcake decorating, games and a dance party.
11:00 a.m. Welcome and Gratitude Exercise
11:45 a.m. Arts and Crafts
12:00 p.m. Light Lunch
12:30 p.m. Bilingual Story Time with Mrs. Adriana!
1:00 p.m. Painting Workshop with Ms. Ruby!
1:45 p.m. Cupcake decorating with Mrs. Betty!
2:20 p.m. Mindfulness, games & dance party!
Live music with guest Julian Soler from Soleart Corp.
Registration on Eventbrite.com is required for this event.
Enter Event Code
: 154835560329 (or type Westbury Arts) into "Search Events"
RSVP Link:
https://www.eventbrite.com/e/154835560329
GALLERY HOURS: View the Exhibit June 15 – 27
Renowned artist, Francisco Ciccio Poblet works are on exhibit in our gallery.
Exhibit hours are commencing Tuesday June 15 through June 27.
| | |
| --- | --- |
| MON | CLOSED |
| TUE | 2 – 6 p.m. |
| WED | 2 – 6 p.m. |
| THU | 2 – 6 p.m. |
| FRI | 2 – 8 p.m. |
| SAT | 12 – 6 p.m. |
| SUN | CLOSED |
ALL OUR GRAND OPENING EVENTS ARE FREE AS IS ENTRY TO OUR GALLERY.​
In 2013 Mayor Peter Cavallaro asked residents for their assistance in creating an arts council for the Westbury community. Mayor Cavallaro envisioned Westbury Arts as the cultural centerpiece of the Village and as the premier destination for arts and culture on Long Island. In just seven years, Westbury Arts has grown and transformed in ways we could not have imagined. Now we start a new chapter with the opening of our building in the heart of the Village.
Our new home is a place where all are welcome — an oasis where artistic expression brings us together, stirs our imagination and soothes our soul. We need your help to continue our mission to develop arts and cultural programs that connect, educate and inspire our community. Your donation will help us realize our vision of a community where arts and culture are valued and instill a sense of belonging and pride. Together we create Westbury!
Your donation can be made here online or by mail
Link to website pages:
Thank you so much for your consideration as we look forward to a bright new future!
The Westbury Arts mural project was made possible, in part, with funds from the Decentralization Program, a regrant program of the New York State Council on the Arts with the support of Governor Andrew M. Cuomo and the New York State Legislature and administered by the Huntington Arts Council.