With the holiday break coming up, you may be wondering how you'll keep your kids away from the TV and off their iPads for the week. Luckily, here are a few crafts you can make with your little ones to get them up and in the holiday spirit!
Christmas Stocking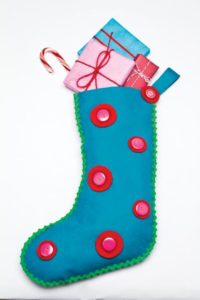 What you'll need:
Multicolored felt
String (and needle)
Buttons
Scissors
Hot glue gun
Directions:
Step 1: Cut a sock shape out of two pieces of felt.
Step 2: Staple the edges together a half inch from the sides, leaving the top open.
Step 3: Glue rickrack over the staples to cover them.
Step 4: Add a felt loop to the top corner of the stocking for hanging. Decorate with felt and buttons.
Jolly Lolly
What you'll need:
Red and white construction paper/ card stock,
Colored pencils
Scissors
Ice-pop stick
Craft glue
Red and white glitter glue
Red ribbon
Directions:
Step 1: Draw and cut out four red and four white circles from your colored paper.
Step 2: Outline each circle with your choice of glitter glue and let it sit and dry.
Step 3: Overlap and glue each circle onto the next (alternating colors) to form a larger circle.
Step 4: Glue an ice-pop stick to the back of circles.
Step 5: Cut a piece of ribbon, fold it in half and tie a bow around the stick.
Chocolate Marshmallow Dreidels

What you'll need:
Jumbo marshmallows
Pretzel sticks
Chocolate kisses
White and milk chocolate meltable wafers
Directions:
Step 1: Carefully melt chocolate pieces separately on your stovetop or microwave.
Step 2: Place a drop of chocolate on the top of the marshmallow and attach chocolate kiss to make the tip of the dreidel. Then add pretzel stick to opposite side of the marshmallow for a handle.
Step 3: Place marshmallow and kiss in the refrigerator to harden.
Step 4: Cover marshmallow and kiss in melted milk chocolate and place back in the refrigerator.
Step 5: Using white chocolate, decorate the dreidel as you wish!