Artist (1969–Present)
" 'Mommy makes mean art,' was the judgment that the artist's daughter, Octavia, delivered at the age of 4, and that gets pretty close to the truth."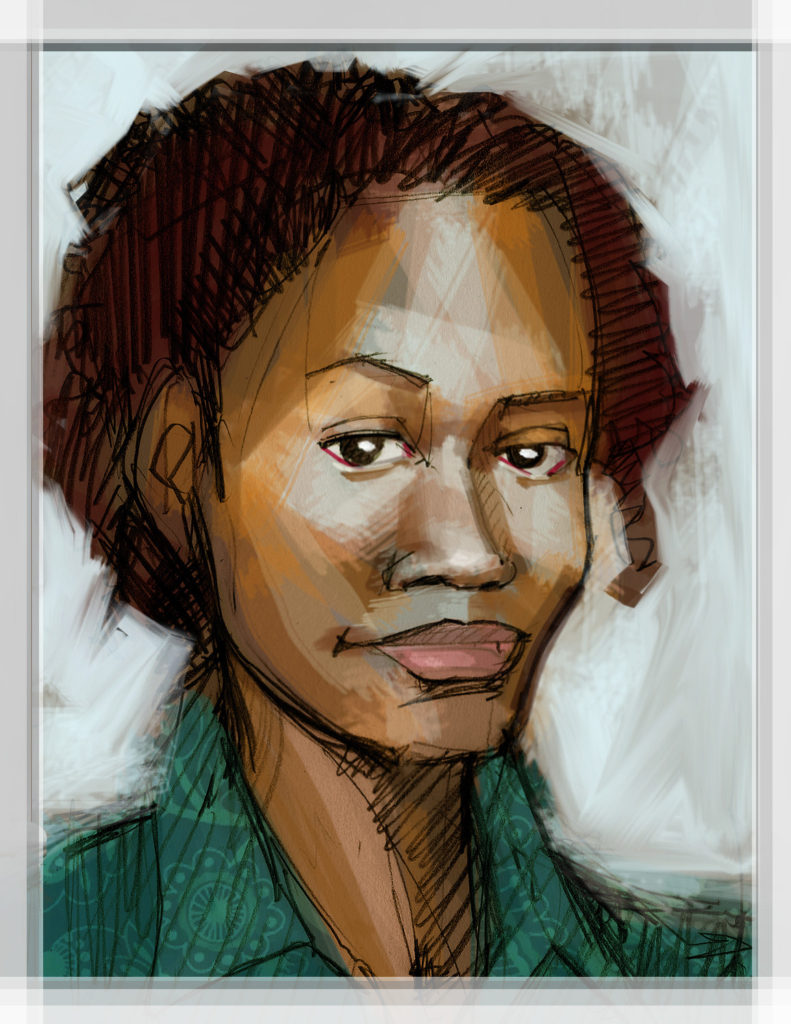 Kara Walker exploded onto the art scene in 1994 at the age of 24 with work that shocked many, and at the same time, made her one of the leading artistic voices on the subject of race and racism. Her fifty-foot long mural, entitled "Gone: An Historical Romance of a Civil War as It Occurred Between the Dusky Thighs of One Young Negress and Her Heart," caught the attention of critics, not solely for its title and theme but also for its form: black-paper silhouette figures against a white wall.
Walker used an old form that would become the basis for her strongest early work. Widespread in Victorian middle-class portraiture and illustration, cut paper silhouettes possessed a streamlined elegance that, as Walker put it, "simplified the frenzy I was working myself into." At first glance, we see figures in period costume which brings us back to earlier and simpler times, but look more closely one realizes that the content is horrifying, as it illustrates the nightmarish racial history of the American South.
Born in Stockton, California in 1969, Walker knew by age 3 that she wanted to become an artist like her father, Larry Walker, who was a painter and the chairman of the art department at the University of the Pacific. The family moved to Atlanta, Georgia, where she would spend the rest of her childhood and attend the Atlanta College of Art where she earned a Bachelor of Fine Arts degree in painting and printmaking and then, later, a Master of Fine Arts degree in painting and printmaking from the Rhode Island School of Design. In contrast with the multi-cultural environment Walker had enjoyed in California, Georgia still held Klu Klux Klan rallies. At her new high school, Walker experienced racism and felt unwelcome and isolated. This experience was pivotal in her development into an artist who focused on race-specific issues.
Drawing from sources ranging from slave testimonials to historical novels, Kara Walker's work features brutal situations that are both violent and sexual in nature. Critics did not agree on whether this was a step backward or forward. In 1997, a group of older African-American artists criticized Walker for using what they considered to be black stereotypes in her art, and even tried to organize a boycott of her work. Others defended her, applauding Walker's willingness to expose the ridiculousness of these stereotypes, "turning them upside down, spread-eagle and inside out," said the conceptual artist Barbara Kruger.
Now, two decades later, Walker's work has been exhibited in galleries and museums worldwide and she continues to challenge and question through her art and insists that her job is to jolt viewers out of their comfort zone, and even make them angry. Over the course of her impressive career, Walker has had solo exhibitions at prestigious museums including the San Francisco Museum of Modern Art; Tate Liverpool in England; and the Metropolitan Museum of Art of in New York. In 2007, TIME magazine placed Walker on its list of the 100 most influential Americans. In 2008 when the artist was still in her thirties, the Whitney held a retrospective of her work. Though Walker herself is still in mid-career, she has emboldened a generation of younger artists to investigate the persistence and complexity of racial stereotyping.
Roberta Smith, art critic for the New York Times, wrote that Walker brings, "… to elegant, repellent life an unending stream of vicious master-slave narratives — a continuum of violence, abuse and violation that consumed and corrupted almost all parties, regardless of age or race. Antic, profane and riveting, these mural-like scenes replayed history as farce and masqueraded tragedy as depraved comedy. They revealed the inevitable psychic corruption of humans owning humans, brought out the sexual component of oppression in any form and implied a country still shaped by the original sin of slavery."
Now a longtime resident of New York City, Walker was a professor of visual arts in the MFA program at Columbia University. In 2015, Walker began a five-year term as Chair of Visual Arts at Rutgers' School of the Arts.