Composer, Saxophonist, Musician (1926–1967)
John Coltrane was an acclaimed American jazz saxophonist, bandleader and composer who was a tremendous influence on the world of music. He revolutionized American jazz with his innovative techniques, while demonstrating a reverence for the sounds of other cultures including African, Latin American, Far Eastern and South Asian.
Born John William Coltrane in September of 1926, he spent his formative years in High Point, North Carolina. As a child he was surrounded by music. His father John R. Coltrane had a passion for music, playing several instruments. The younger Coltrane's early influences included jazz legends like Count Basie and Lester Young. By his teens, Coltrane had picked up the alto saxophone and displayed immediate talent. He matured into an artist who turned the jazz world on its head with his technically marvelous and innovative musicianship. He became known for using the three-on-one chord approach, and what has been called the 'sheets of sound,' a method of playing multiple notes at one time. During his early professional career he played with legendary jazz band leaders including Eddie "CleanHead" Vinson, Jimmy Heath, Dizzy Gillespie, and Miles Davis. By 1960 Coltrane had formed his own quartet which created some of the most innovative and expressive music in Jazz history including the hit albums: "My Favorite Things," "Africa Brass," " Impressions," " Giant Steps," and his monumental work "A Love Supreme"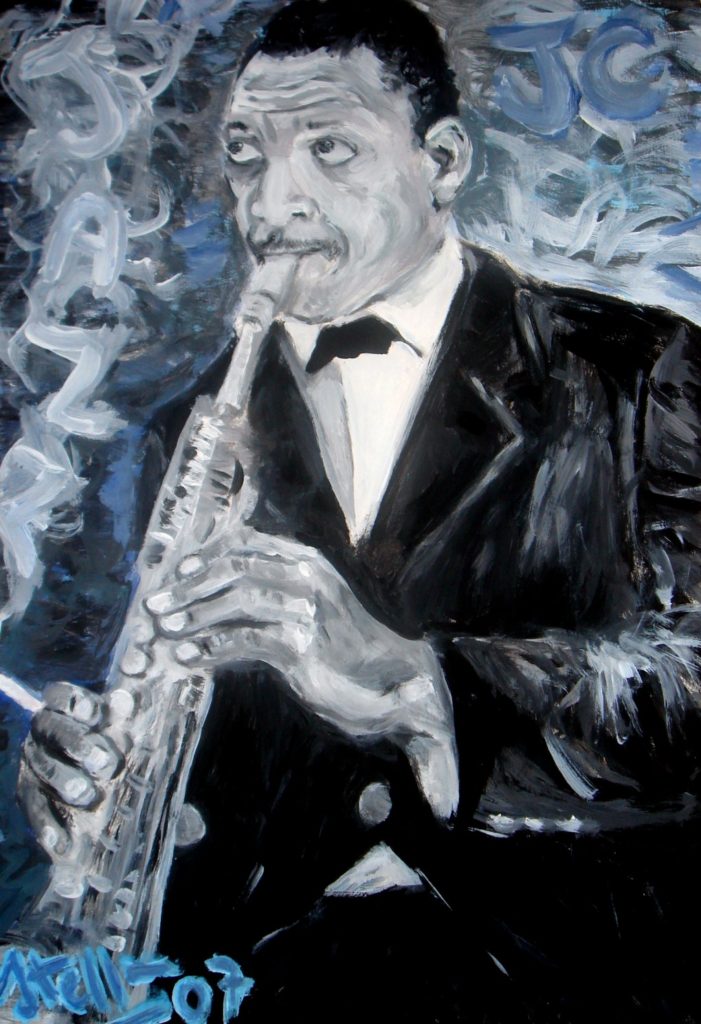 In 1981, Coltrane won a Grammy, posthumously, for "Best Jazz Solo Performance" for his live recording Bye Bye Blackbird and in 1992 he received the Grammy's highest honor, a " Lifetime Achievement Award," for his catalogue of work. In 2007, the Pulitzer Prize Board awarded John Coltrane a posthumous Special Citation for his lifetime of innovative and influential work. The citation applauds Coltrane for, "his masterful improvisation, supreme musicianship and iconic centrality to the history of jazz." The citation continues, "His exalted stature arises from his composition and recordings. In 'A Love Supreme,' he produced an imposing composition expressing faith in God. In 'Africa/Brass Selections,' he achieved astonishing orchestral feats. His work has weight, an artistic quest and searching nature. Coltrane infused the existing tradition with innovation and radical approaches. The surface of his music is dynamic and palpable, the underlying structure is suffused with spirituality and provocative political content."
John Coltrane had a strong connection to Long Island. He lived with his wife, Alice, and raised his children on a quiet residential street in Dix Hills during the last years of his life. In this home, he composed his greatest work, "A Love Supreme" as well as all of his last works. In 1967, liver disease took Coltrane's life at age 40 cutting short his astonishing musical career.
Fortunately, Coltrane's work continues to be an integral part of the jazz landscape and is an inspiration for newer generations of artists.
Join us for a very special Honoring the Past, Inspiring the Future: Black History Celebration on February 10, 2018 from 2:00 pm – 5:00 pm at the Westbury Recreation Center.