Celebrating Women's History Month, Frida Kahlo – A Mexican artist and feminist icon
Frida Kahlo de Rivera was a Mexican artist who became famous because of her vibrantly painted self-portraits. As a teenager, Kahlo experienced near death in a bus accident and as a result suffered multiple fractures to her spine. Her other injuries included a fractured collarbone, fractured ribs, a broken foot, a dislocated shoulder and a shattered pelvis. Art became a powerful resource in Kahlo's life while she recovered in a full body cast. She even showed her earlier works to Diego Rivera, a communist painter of the time, who ultimately encouraged her to continue painting.
Later Kahlo married fellow artist Diego Rivera which actually proved to be a stormy relationship that she portrayed in many of her paintings. While married Frida and Diego often traveled because of commissions that Diego had received from multiple United States cities. This allowed for Kahlo to expand her artwork's reach and even provided the opportunity for her artwork to be displayed in exhibits in the United States. The turbulent relationship between Frida and Diego continued as she became deeply sorrowed after discovering the many affairs that Diego had which even included an affair with Frida's younger sister. She also became grief stricken after experiencing multiple miscarriages. During these depressing times Frida and Diego separated on several occasions. She continued on in her artistic career by having an exhibition in New York City where she sold 25 paintings and received commissions immediately after the exhibition. Leading up to Kahlo's divorce with Diego, she went to live in Paris during 1939 where she befriended artists Pablo Picasso and Marcel Duchamp. In the same year she produced one of her most famous works The Two Fridas (1939). Kahlo then remarried Diego in 1940 although the couple proceeded to live completely separate lives.
Following the death of her beloved father, Frida suffered from more chronic health issues. In spite of her failing health, she persevered and used her condition to inspire paintings like The Broken Column and more. Despite her decreasing physical health status Frida remained politically active even after having a newly amputated leg. Proving that she would not let disease and illness stand her way, she would have her final public appearance was a demonstration regarding the overthrow of President Jacobo Arbenz of Guatemala. Frida Kahlo passed away at the age of 47 on July 13th at her own residence. Frida's Legacy lives on through her little blue house in Coyoacán as it serves as a museum that consists of her belongings and of course some of her paintings.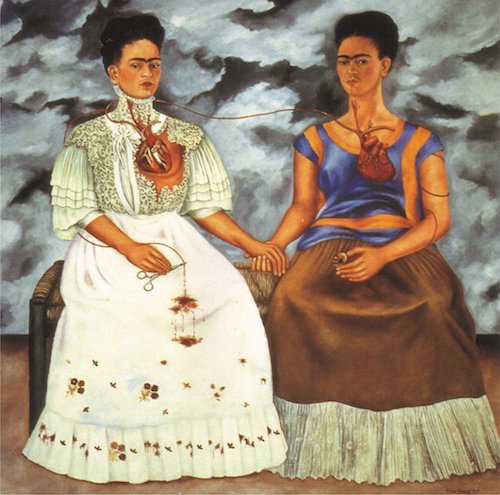 The Two Fridas is claimed to be one of Frida Kahlo's most notable pieces and is definitely considered one of her most famous artworks. She painted this piece in 1939 immediately following her divorce with Diego Rivera. The painting consists of almost identical Frida's that represent to versions and two emotions of her relationship with Diego. One is dressed more traditionally with a damaged heart that seems to be cut by surgical scissors while the other Frida's heart is completely intact and she is dressed in vibrant colored clothing. The two Frida's are meant to represent the "loved" and "unloved" version of Frida when it came to her and Diego. The painting was acquired by the Instituto Nacional de Bellas Artes, but a reproduction of the piece can be found on display in the Frida Kahlo Museum in Coyoacán, Museum which is formally where she originally resided.