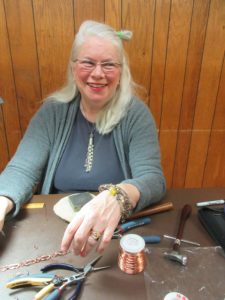 Wireworking 101
In this workshop you'll learn how to fashion unique jewelry. The material and the tools are simple but the piece you create will be original and something you'll enjoy wearing or giving as a gift.
Maureen started this craft more than a decade ago. "Wireworking speaks to me," she says. "I think it's because I'm a Libra and so I love embellishment." In this class you'll follow a plan and in three and a half hours your work will be complete.
The materials used are inexpensive — copper and silver wire and a few tools. If you use the copper wire, eventually it will develop a green patina (think of the Statue of Liberty!).
Before you leave the class your piece will be placed in a jewelry tumbler where it will harden (scientifically speaking the process pushes the molecules of metal together so the piece is not so delicate).
If you enjoy working with your hands, Wireworking might be for you.
---
Register for the workshop
Wireworking 101: Making a Lightbulb Link Bracelet with Maureen Baranov takes place on Saturday, January 27, 2018 9:30 am – 12:30 pm. Westbury Recreation Center, Room #1, 348 Post Avenue, Westbury, NY. Enrollment is $35.