Volunteers from around the country are joining the American Heart Association, in connection with The Children's Heart Foundation, to celebrate American Heart Month in February and American Stroke Month in May by knitting and crocheting red hats for babies born at participating hospitals.
Little Hats, Big Hearts™, honors babies, moms, and heart healthy lives in a very special way. Together, we are working to raise awareness, provide resources and inspire moms to take their family's heart health to heart while also raising awareness about Congenital Heart Defects.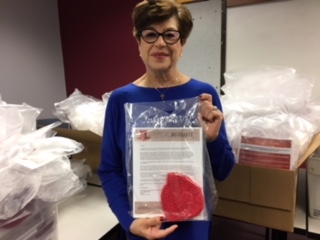 If you knit or crochet and would like to participate in Little Hats, Big Hearts™, please reach out. They gratefully accept both baby hats and donations of yarn.
We will be working with multiple hospitals throughout the region including Mother-Baby units and Neonatal Intensive Care units, so we need hats in both newborn and preemie sizes.
Yarn specifics:
Red
Cotton or acrylic
Medium to heavy weight
Machine washable and dryable
You may use your own pattern or we recommend any of the free simple hat patterns which can be found on the Little Hats, Big Hearts™ website. While we love bows and buttons, they can come off the hats and be dangerous for the little ones, please refrain from decorative accents.
---
Thank you for supporting Little Hats, Big Hearts!
Drop off hats or yarn donations as soon as possible or call to arrange pick-up:
American Heart Association
ATTN: Little Hats, Big Hearts
125 E. Bethpage Road, Suite 100
Plainview, NY 11803
Cover photo by Ed Shin