Now you understand
Just why my head's not bowed.
I don't shout or jump about
Or have to talk real loud.
When you see me passing,
It ought to make you proud.
I say,
It's in the click of my heels,
The bend of my hair,
the palm of my hand,
The need for my care.
'Cause I'm a woman
Phenomenally.
Phenomenal woman,
That's me.
The last stanza of Maya Angelou's "Phenomenal Woman" Copyright © 1978 by Maya Angelou
Maya Angelou was truly a phenomenal woman.
At different phases of her life she exhibited talent as a an author, historian, songwriter, playwright, dancer, stage and screen producer, director, performer, singer, civil rights activist and most of all poet. President Bill Clinton requested that she write a poem and recite it on the occasion of his inauguration in 1993. That poem, "On the Pulse of Morning," won her a Grammy Award that year for best spoken word album.
What makes Maya Angelou's journey phenomenal are all of the hurdles she scaled to a place of national and international recognition.
She was born in 1928 in St. Louis, Missouri; her birth name was Marguerite Johnson. As a result of her parents' divorce, she and her brother, Bailey (who called her "Maya"), were sent to rural Stamps, Arkansas, to live with their grandmother. One can only imagine the devastation when, at the age of 8, she was raped by her mother's boyfriend on a visit back to St. Louis. In response to this atrocity several of her uncles beat the man to death. Maya believed that she had caused the man's death by speaking his name and refused to utter a word for approximately five years and one half years. The voice that would stir the nation was temporarily mute.
As a teenager, Angelou reunited with her mother and moved to California. While still a high school student she gave birth to a son and for a brief time held a job as a streetcar conductor, the first African American female conductor in San Francisco. In 1950, at age 22, she married a Greek sailor named Angelopulos, although the marriage lasted only a few years, she fashioned her professional name by blending her childhood nickname, "Maya," and a shortened version of her ex-husband's surname.
Maya Angelou, as a young adult, studied dance and drama and went on to a career in theater. She won a role in the touring company of Porgy and Bess and traveled to twenty-two countries to perform. She also acted in several plays on and off Broadway, including Cabaret for Freedom, which she wrote with Godfrey Cambridge and appeared in an off-Broadway production of Jean Genet's The Blacks with James Earl Jones, Lou Gossett Jr. and Cicely Tyson.
Maya Angelou made literary history with the first nonfiction best-seller by an African-American woman.
During the early 1960s Angelou left for Egypt with a boyfriend and lived in Cairo, where she was the associate editor of an English language paper called The Arab Observer. Later she moved to Ghana where she wrote articles for The Ghanaian Times and was featured on the Ghanaian Broadcasting Corporation programming in Accra, Ghana. Upon her return to the United States, she was urged by James Baldwin, a friend and fellow writer, to write about her life experiences. The result was the enormously successful 1969 memoir about her childhood and young adult years, I Know Why the Caged Bird Sings, which made literary history as the first nonfiction best-seller by an African-American woman. This first in a series of autobiographies has been described as, "…being a sharp account of an African American girl's coming of age, this work offers insights into the social and political climate of the 1930s." She wrote four additional books about her life, including Gather Together in My Name (1974), Singin' and Swingin' and Gettin' Merry Like Christmas (1976), The Heart of A Woman (1981), and All God's Children Need Traveling Shoes (1986). Her writing also includes children's books and collections of her poetry.
Maya Angelou was the first black woman director in Hollywood.
As if this would not be considered a life full of accomplishments, Maya Angelou was the first black woman director in Hollywood, Angelou wrote, produced, directed, and starred in productions for stage, film, and television. In 1971, she wrote the original screenplay and musical score for the film Georgia, Georgia, and was both author and executive producer of a five-part television miniseries "Three Way Choice." She also wrote and produced several prize-winning documentaries, including "Afro-Americans in the Arts," a PBS special for which she received the Golden Eagle Award. Angelou was twice nominated for a Tony award for acting: once for her Broadway debut in Look Away (1973), and again for her performance in Roots (1977).
Maya's legacy lives on.
After experiencing health issues for a number of years, Maya Angelou died on May 28, 2014, at her home in Winston-Salem, North Carolina. On the eve of her passing, President Barack Obama issued a statement about Angelou, calling her "a brilliant writer, a fierce friend, and a truly phenomenal woman."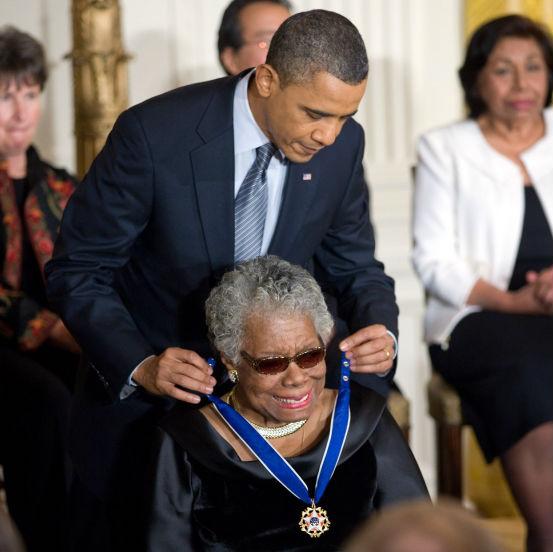 On A Personal Note
For ten years I was honored to serve as the principal of a NYC urban high school in Midtown Manhattan. Each year we celebrated the spoken word with a "Read Aloud Day" in the school's library. All of our students attended during the period they were scheduled for English, and students volunteered to read aloud something they wrote or something that had great meaning to them. Maya Angelou's poem, Phenomenal Woman, was a constant. Year after year, period after period, my young female students, of all races, shared this poem. Maya Angelou planted seeds in the souls of these youngsters that bloomed as pride and self-esteem. For that, I am ever grateful.