Faith Ringgold is now 85 years old and is celebrated for her work as an artist, educator, and social activist, and as a storyteller. She is perhaps best known for her "story quilts", which she began making in the 1980s, each of which imparts a narrative that she feels compelled to share and which have garnered her popular acclaim. But her journey to international renowned as American artists was not an easy one.
Faith Ringgold was born Faith Will Jones in 1930 in Harlem, the youngest of three children, who were raised during the Harlem Renaissance and exposed to all of its cultural offerings She was frequently sick with asthma as a small child; art becomes a major pastime. She was taught to sew fabrics creatively by her mother, a professional fashion designer; and to make quilts by her grandmother. Ringgold attended City College, where she was first refused admission as an art major in the School of Liberal Arts because they did not admit woman, so she instead enrolled in the School of Education where she was able to major in art. She became an art teacher in the NYC Public Schools from 1955 to 1973. The Civil Rights movement became both a major force in American society during the 1960s and had a lasting impact on Ringgold and her work.
It was during her time as a teacher that she began a series of paintings called American People, which portrayed the civil rights movement from a female perspective. In the 1970s painted political posters and actively fought against racial and gender discrimination in the New York art world, particularly with regard to the American art museum system, which often omitted African-Americans and women from its exhibitions.
Faith Ringgold grew in her role as a storyteller with the advent of her "story quilts" in the 1970s. Building on the skills she learned from her mother and grandmother as a child, she began to sew fabric around her canvas instead of stretching the canvas over wooden stretchers. This method was similar to to the Tibetan art known as "tankas." In her quilts, Ringgold continued to comment on the themes of gender and race, particularly in their relation to art history.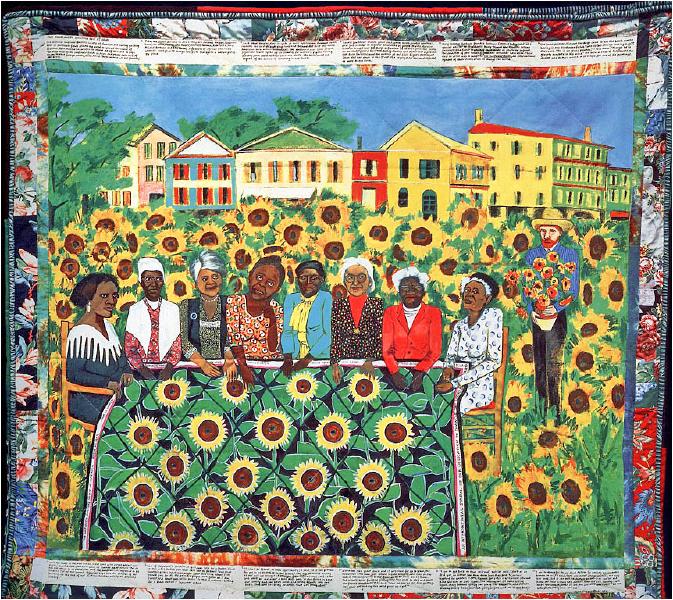 In the work above, "…eight powerful African American women from the past and present display a colorful quilt that is a communal symbol of their achievements. From upper left they are Madam Walker, Sojourner Truth, Ida Wells, Fannie Lou Hammer, Harriet Tubman, Rosa Parks, Mary McLeod Bethune, and Ella Baker. A ninth figure, on the lower left, is Willia Marie Simone, a fictional character created by the artist. Vincent van Gogh, well known for his paintings of sunflowers, stands to the right. Through words and text, symbol and metaphor, Ringgold acknowledges the contributions of African American women and honors their traditions. Faith Ringgold always speaks in a clear voice that affirms women, especially African American women." – Philadelphia Museum of Art
Later in her career, Ringgold began to translate some of the messages from her story quilts into children's books and has written or illustrated more than 14 such books. Her first book, Tar Beach, was a Caldecott Honor Book and winner of the Coretta Scott King Award for Illustration, among numerous other honors. Below are photos of both the quilt and the book cover. Tar Beach
"I will always remember

when the stars fell down around me

and lifted me up above

the George Washington Bridge."
Cassie Louise Lightfoot, eight years old in 1939, has a dream: to be free to go wherever she wants for the rest of her life. One night, up on "tar beach" –the rooftop of her family's Harlem apartment building–her dream comes true. The stars lift her up, and she flies over the city. She claims the buildings as her own–even the union building, so her father won't have to worry anymore about not being allowed to join just because his father was not a member. As Cassie learns, anyone can fly. "All you need is somewhere to go you can't get to any other way. The next thing you know, you're flying above the stars."
This magical story resonates with a universal wish. Tar Beach is a seamless weaving of fiction, autobiography, and African-American history and literature. Cover excerpt, Tar Beach by Faith Ringgold, Crown Publishers, New York 1991.